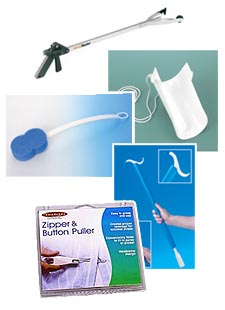 S&S Home Health carries many products designed to help restore your independence and maximize your quality of life.
Available products include:
Sock aids and shoehorns to assist you with putting on and removing socks and shoes;
Dress sticks, pull-up pants and pullover shirts, as well as button and zipper pulls to simplify your dressing routine;
Extendable reachers to grab objects from high shelves without straining or pick up items off the floor without having to bend over;
Weighted, moldable utensils to provide many options to assist with specialized feeding needs;
Magnifying glasses and other personal magnification tools to allow you to read fine print and work with smaller objects;
Bottle and can openers for effortless opening food and medicines;
Specialized telephones featuring extra loud rings and large, easy-to-read buttons; and
A variety of scales with many different features including large dial/display, speaking/voice and digital scales to weigh yourself easily and accurately.

…and many others for just about any need in your daily life.